The Corporate Tai Chi Grant
will be available for voting on Saturday, January 1
ez.com/grant.
If you as a leader of a company could increase the capital value of your employees by upping their productivity and dumping their stress, for FREE, would you do it? If you could make money every day by installing 5 minutes of training, would you?
If you as someone working or schooling could get 5 Free minutes of power training, stress relief, meaning and pleasure during work or school time, for FREE, would you try it?
YOU CAN, if the Corporate Tai Chi grant is accepted and wins. We need thousands of votes. Simple as that.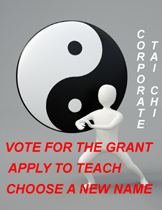 Go to
dianegold.com/grant
to read more. Or just go directly to
refresheverything.com/corporatetaichi
to sign up.
On Jan. 1, 2011, the grant info will be at the top of this page.
You must sign up to vote. You don't have to sign up to browse and read. You can sign up at the bottom left of the page the link directs you to. Then, on January 1, if it aligns with you, sign in and vote Corporate Tai Chi.
You can vote once a day for 30 days and for 9 other projects a day, too. Many wonderful ones.
Why Vote? With the grant:
~your corporation, school, office, hospital, community program, institution, government office can install this program free for 3 months, along with 49 other locations to be part of a statistical report.
~50 tai chi or chi kung teachers will be hired for a minimum of three months to complete the study and teach one individual at the location how to teach it.
~10s of thousands of employees and students will reduce their stress levels at work and school and be responsible for the statistical study paving the way for this health and financial benefit in all corporations, schools, organizations, government offices, hospitals, prisons, other institutions.
~this grant will impact future economy through its statistical outcome and health through improving people.
Watch for the CORPORATE TAI CHI PHONE APP. Coming soon.
Read more
here
.
It's worth the read, so tell a friend, colleague or leader. If you have the ear of the President, we would like the program in the White House, too:
refresheverything.com/corporatetaichi
or, for short,
ez.com/grant
.
Good Luck To All Of You And The Corporate Tai Chi Grant from Pepsi's Refresh Everything!
If you would like to discuss the project or if you need help with the process, please comment below.
Peace IN.